Hartley Hall
One of Columbia's dedicated First-Year residence halls and one of the locations for our Living and Learning Center (LLC), which houses Sophomores, Juniors, and Seniors, Hartley Hall provides corridor-style living in the heart of campus. Hartley provides convenient access to Columbia Dining locations, Columbia Health offices, the south lawns, and shops and restaurants near campus.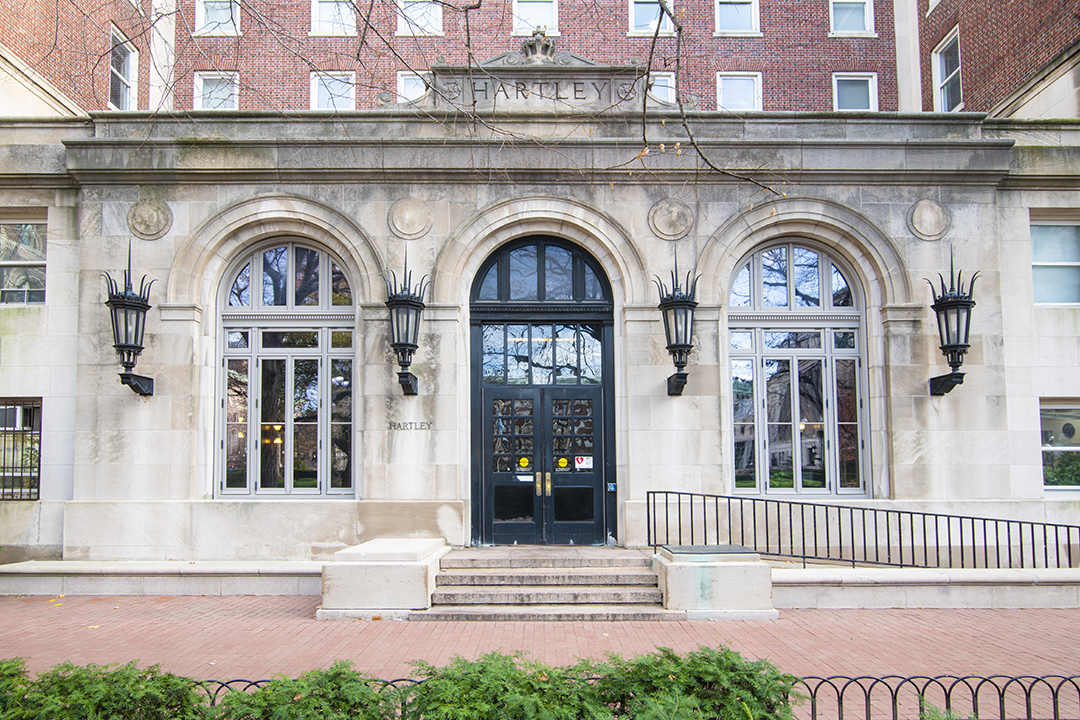 Key Features:
John Jay Dining Hall, JJ's Place, and Columbia Health Medical Services are located in close proximity
Expansive views of Morningside Campus, the Hudson River, and the historic Harlem neighborhood.
Located in the heart of campus
Columbia Housing office and Hospitality Desk are located within Hartley
Building Details:
AY 19-20 Rate:

$8,718/year

Entrance location:

Inside campus between 115th and 116th Streets

Number of residential floors:

9

Single/Double rooms within suites:

Flooring:

Hallways and rooms are carpeted

Elevators:

2
Bathroom:

Semi-private within suite

Laundry:

Free laundry facility in basement

Kitchen:

One private kitchen per suite

Lounge:

A large building lounge with a game room (pool, ping pong, foosball) is available on the first floor
A study lounge is located on the 10th floor
Each suite has common area equipped with cable TV service

Computer Lab & Print Station

Available on the first floor

Vending Machines:

Available on the first floor

Cleaning Schedule: 

Bathrooms: Twice weekly
Kitchens: Responsibility of residents
Trash: Residents are responsible for bringing their own trash to designated trash receptacles
Recycling: Twice weekly
What Former Residents Say:
"Hartley was a great place to spend my first year at Columbia. Living in such a comfortable setting with upperclassmen really helped me learn the ins-and-outs of Columbia, and it was great to be so close to the action on campus."
---
"Hartley is not only a nice place to live, but has a convenient location. Just downstairs in the lobby is the Hartley Hospitality Desk, a CUIT computer lab, and a lounge with pool and ping pong tables! In addition, it only takes two minutes to get to classes in Hamilton."